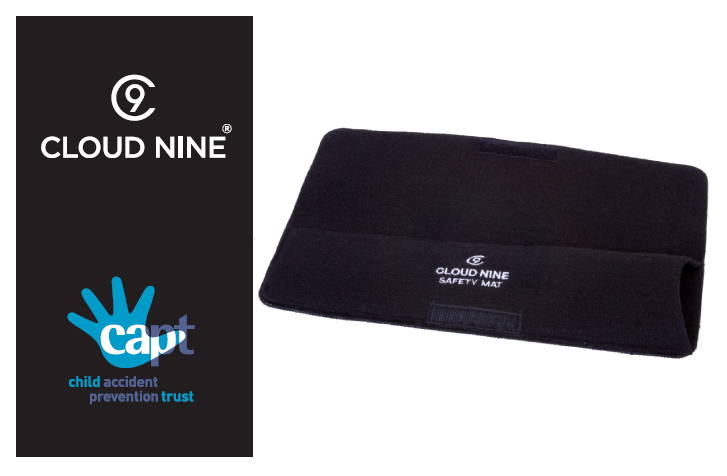 Following recent safety concerns about serious burns to babies and toddlers from unprotected hair straighteners left to cool, Cloud Nine have introduced free high quality heat-proof safety pouches.
Investigations have found that the majority of manufacturers and retailers do not offer heat-proof pouches alongside their range of products. As a simple and effective solution, Cloud Nine have become the first UK Company to supply heat-proof pouches as standard with all our straighteners. The pouches are also available on our website to anyone who owns a pair of hair straighteners.
Partnering with leading UK charity, Child Accident Prevention Trust (CAPT), this will promote three simple steps to hair straightener safety:
Turn off
Wrap up
Put away
According to research conducted by CAPT, hair straightener burns among children have doubled in recent years and now account for up to one in ten burns to children. Katrina Phillips, Chief Executive of the Child Accident Prevention Trust, says:
"Crawling babies and toddlers can be scarred for life by hair straighteners. Parents simply don't know that their straighteners get as hot as an iron or that their baby's skin is 15 times thinner than an adult's; so they leave them to cool on the floor, on furniture or over a door handle."
"Even once parents understand the risks, the lack of pouches for straighteners means it's been hard to do the right thing. That's why this initiative is a game-changer. For the first time it makes a high quality heat-proof safety pouch for hair straighteners available to everyone."
Founder of Cloud Nine Robert Powls explains that the partnership is a bid to make the use of heat-proof safety pouches for styling products as routine as the use of seat belts in cars:
"We are proud to be working in partnership with CAPT and as a company we take safety very seriously. Through this campaign we hope to raise general awareness, help to minimise the risks for young children and make Cloud Nine's heat-proof pouch available to everyone whilst raising funds for a good cause."
To get your heat-proof safety pouch on our website simply click here and make a donation of just £2 to CAPT plus £2.95 P&P.
---
By

Millie Rae

,


02th June 2014