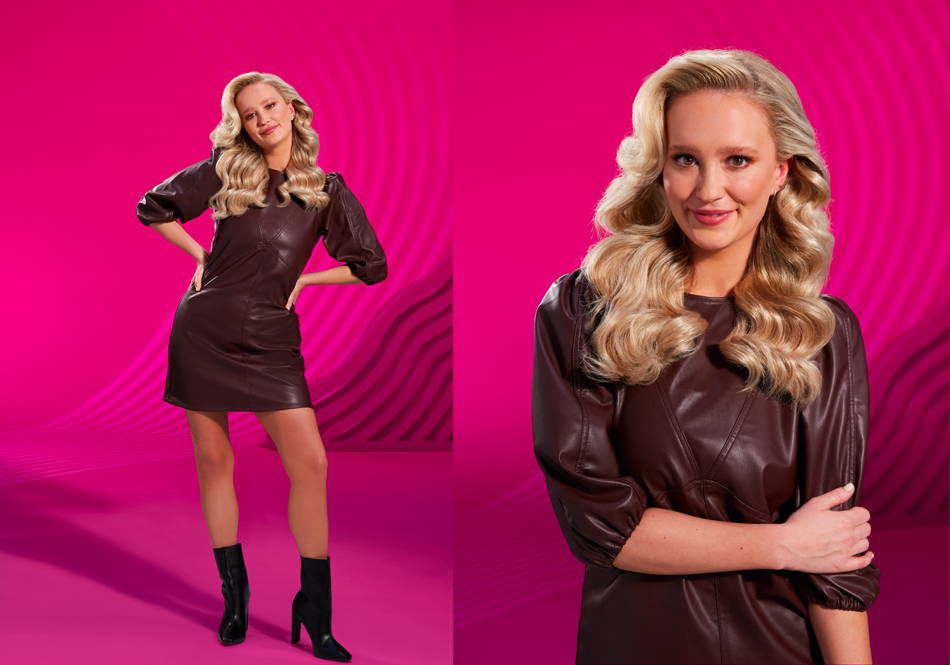 Introducing Joely, Beauty Director at Grazia UK from London who has a big love for pizza, 90's R'n'B and wavy hair. 
What is your personal style like?
My personal style is laid back and quite low key but I also like to dress it up as well.
In terms of beauty, I absolutely believe in the power of red lipstick and doing my hair in a wave makes me feel great too.  
How would you describe your hair?
My hair is naturally really curly and quite fine.
Can having great hair make you feel fiercely you?
Having great hair can absolutely make me feel fiercely me, hair is a huge part of my identity and when I have great hair it just makes me feel confident, makes me feel energised and ready to take on the day.
I love that my hair is quite versatile I can wear my natural curls and I can amp them up or I could do a totally different look and really transform my style by using a tong or by using product so I like that versatility.
Have you ever struggled with hair confidence?
I have actually struggled with hair confidence in the past a while ago I had quite a bad cut and colour experience which left my hair really dry and I wasn't so fond on the colour and that really impacted on my confidence and it also really showed me how both a good and a bad hair moment can impact your confidence.
Having a great hair moment really can boost my mood the same way as makeup or an outfit can, it kind of just makes me smile that little bit wider and stand that little bit taller I guess.
How would you describe that feeling of having great hair in 3 words?
If I had to describe that feeling of having great hair in 3 words I would go for confidence, energy and that feel-good factor.
What is your go-to hair style?
My go-to style is definitely like an undone soft wave I love to have the softness in my hair that I can amp up with a dry texturizing spray so it can have that kind of airy feeling to it, I love doing that. But I also like something more set for the evening and switching it up and maybe having it in a more set style that can be set in place with hairspray.
What is it that made you want to work with CLOUD NINE?
So what I love about CLOUD NINE, I actually first tried the brand when I was at University in Manchester when they just launched, and I used the curling wand and I was just so impressed with it literally from the get-go. It delivered a really shiny wave which was exactly what I was in to. So in my job as a beauty journalist since then I've used them and written about them because they are just such a trusted brand that you can actually rely on and they do what they say on the tin and give you the results that you want.
There are a few things that I love about The Curling Wand, I love the barrel, it just gives a really like seamless, smooth undone wave that you can have a little bit tighter or you can loosen it out. I also love the controllable heat I think that's a huge factor. You ever have to go too high you can play around with it and find what works for you and I really love that about the brand.
What do you love about The Curling Wand?
I love that Cloud Nine products really prioritise hair health which is a big thing for me because my hair can break really easily especially because it's bleached its blonde; so I really love the controllable heat factor. So if I want something like a softer wave I can dial it down for every day and just use that or if I need a little bit more heat for the evening I can amp it up but I still know that it's not going to damage my hair.
Have you seen a shift in the beauty/hair industry?
Throughout my past 8 years' experience as a beauty journalist, I have noticed huge shifts in the industry and the most important thing for me is that brands are really delivering to diverse consumers the way they always should have; no one should ever be left out of the conversation when it comes to beauty. Beauty is there to empower its there to make you feel good it's there to give you self-love and everyone should be involved in that conversation. Another point would be how the power is returning to the consumer; consumers expect a lot from brands and brands have to deliver that. I think that's been an interesting shift in the industry as well.
Where do you get your confidence from?
My confidence comes from self-acceptance and knowing what my values are and staying true to them. I think that's a big part of where my self-confidence comes from and not buying into that comparison culture on social media, I try not to compare myself to anyone else. Everyone is doing their own thing and I'm going on my own journey and my own direction.
I don't claim to have my self-confidence down to a t I think I am definitely still on a journey but if there were any tips I could give to help someone feel self-confident – Follow your own path and do your own thing. You just do you because no one else is going to do that for you. Speak to yourself how you would speak to a friend. Be your own cheerleader and have your own back.
What does being Fiercely you mean to you?
Being fiercely me means not living up to anyone else's standards, I think it's trusting my own judgement, trusting myself. Being unapologetically accepting of myself.
I think the message of choosing to be fiercely you is so important and more important now than it's ever been. We've been on this journey of change and we are doing away with outdated societal ideas and choosing to be fiercely you, we are taking back the power to just be who we are and what we are, and we are being unapologetic about it and I think that is why it is such an important message for now.
What has made you want to work on your self-confidence recently?
I've been focusing on my own self-confidence journey recently because 2020 has been a crazy year and it really helped me reflect on what I actually want, what do I want for the future? Self-acceptance, self-confidence and self-love are very high on that list so I want to invest in myself and I want to invest in my confidence.
Do you think that hair and beauty can contribute to feeling fiercely you?
100%, I absolutely think that hair and beauty can contribute to feeling fiercely you. That for me is all that beauty is about, it is there to make you feel self-empowered. It is there to give you confidence and just to feel good about yourself. It's not there to make you feel perfect or to conform to anyone else's idea of perfect. It's there to make you feel good about yourself and that's why I think it can make you feel fiercely you.
How would you encourage someone else to be fiercely themselves?
If I was trying to encourage someone else to be fiercely themselves I would say don't get involved with comparing yourself to other people you are yourself, you're amazing just the way you are and I know that sounds cheesy but it's true. Once you accept that you can feel fiercely yourself and you're not conforming to anyone else's ideals of perfectionism because ultimately that really doesn't exist.
Embracing the message to be fiercely you is ultimately embracing yourself and when you do that I just think you can open so many doors and you can go on to achieve your full potential because nothing inside your own head is holding you back.
Do you have any styling tips for those who have a similar hair type to you?
If you have similar hair type to me, my hair is bleached, curly naturally and it's also fine. Honestly, the biggest tip is finding the products that work for you because once you have that you have the tools to get creative and to explore different styles that might suit that outfit or makeup of the day and get playful. Have fun with it.
One of my top tips for hairstyling is that I always blow-dry right at the root to get some volume. I always dry my hair in sections again to get that volume where I want it. When I'm using The curling wand a tip that I love to do is whilst I'm going around the barrel I keep the end out and I'll move it up and down – when it releases it gives a really soft wave but has those straighter ends if you want more of a beachy wave. Another tip would be really getting to know your hair and the heat level it needs. If you have finer hair which I naturally do you can go for a lower heat and still get the same style; you can be quite prescriptive with your heat.
Follow Joely on Instagram : @joelygabrielle
---
By

Millie Rae

,


01th March 2021