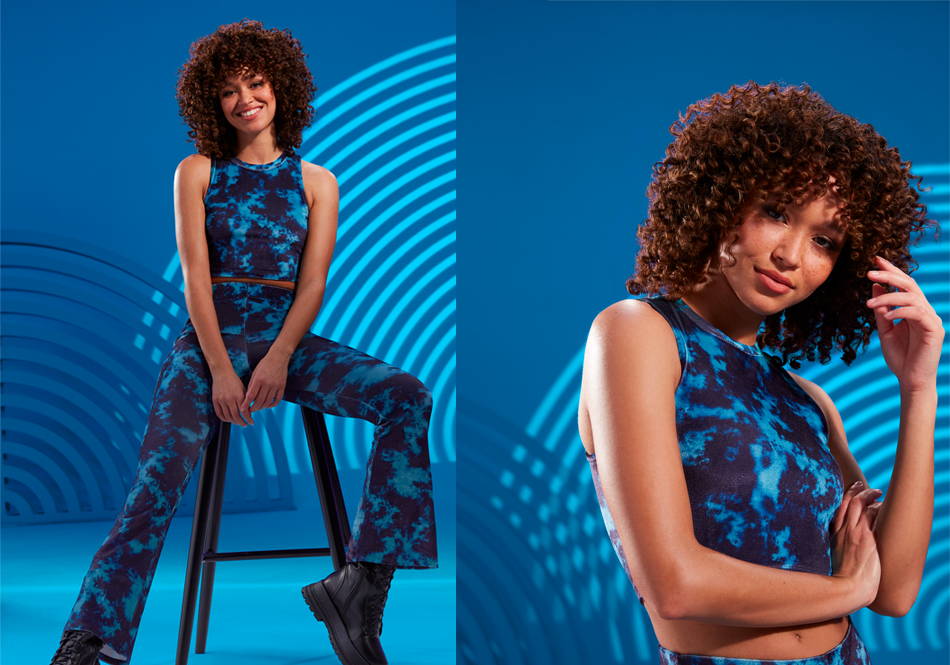 Introducing Lulu, a model and influencer from London. 
What is your personal style?

My personal style is normally quite comfortable, casual, not very put together, erratic, a bit funky, clashy.

Tell us about your hair, describe your hair.

My hair is curly, it's a 3c texture, it's big and full of life, unpredictable but she's mine and I love her.

What do you like about your hair?

I love its unpredictability, you can't quite control it and I quite like that and it keeps you on your toes a bit! I love how full of life it is, it is full of volume.

Do you think having great hair can make you feel fiercely you?

Yeah depending on the situation, I think if you are going out to an event or something and you want to feel fierce I think having your hair done and looking great can just help to bring everything together.

Have you struggled with hair confidence in the past?

Yeah growing up I never used to wear my hair out at all. I used to straighten it throughout school. I used to wear it scraped back in a ponytail so you couldn't really see it and then I got into straightening it when I was like thirteen, fourteen and I did that basically up until I went to uni but something just clicked in me. I think it's because when you go to university you can just start fresh and then I was like I don't know anyone here, no one has any preconceptions I can just start again so I just started wearing my hair out from then and embraced it from there.

Do you think more needs to be done in the beauty industry to represent all types of hair?

Yeah, I think there are steps being taken to represent more hair types like in campaigns but I think it needs to run deeper in terms of education and in the industry. It's very rare that you get the feeling that you are in safe hands and that you can trust the stylist entirely to make my hair look its best. I think education in that sense is really important for across the board.

How does having great hair make you feel? Can you describe it in 3 words?

Lively, bouncy and bubbly.

Do you have different hairstyles for evenings and events?

I kind of keep my hair as it is day to day or wear it up, I don't really care that much about what my hair looks like day to day but obviously, if I'm on set then I will have my hair out and doing its thing or sometimes I do like a half up half down with my little fringe in the front I used to do the frohawk!

You mentioned that looking after your hair and keeping it moisturised is really important to you, why is that important to you?

Just taking care of yourself is super important I think a lot of the time when you're inflicting damage on your hair it's not sustainable and I think having healthy hair is the best way to keep it looking good and feeling good. No one likes having dry hair, it doesn't feel great.

For your particular hair type, what is your top haircare tip?

Seal in moisture. Lots of water and sealing it in afterwards is really important. Try to not really use much heat on it, minimal products but you just have to get to know your own hair, what works with it, what doesn't and what feels right. Not over processing it and letting it be.

What made you want to partner with CLOUD NINE and this campaign in particular and how it feels relevant to you?

This campaign really stood out as being something a little bit different, cooler and not just the classic "look at my blow out" sort of thing. I think it's cool.

The whole CLOUD NINE team have been really lovely and have allowed me to be me and say what I want to say which is really encouraging.

Tell us your thoughts on The Texture Wand

It's a really great feature to be able to have the variable temperature and not be burning my hair to a crisp. I think it's good that you can keep it low, keep it minimal.

Where does your confidence come from?

I think confidence has to come from feeling comfortable in your own skin. I think it's very easy in this industry to put your self-worth on your looks and how you look because it is essentially what you're getting booked for, but I think it's really important for the confidence to really exude from within. You're not going to be beautiful to everybody because it's subjective at the end of the day so you're responsible for your own confidence. You can't let other people project their ideas on to you of what it is to be beautiful, it has to come from yourself.

If you were talking to a friend, what would you say to them to help them with their inner confidence?

I would tell her that she is loved and for her to ignore what everybody else is saying; you are beautiful. Stop what you're doing, let your hair grow back naturally treat your hair well, everything else kind of falls into place. You can try to manipulate it all you want but I think it's really important to have that foundation of healthy hair.

Why do you think it's so important to have a supportive network surrounding you?

I think it's important to feel like you can be entirely yourself around people. I think just having that network where you can just feel confident and know you don't have to mince your words and you can just be truly, unapologetically you and have people who understand that and appreciate that. You're not going to get on with everybody, you learn as you get older not everyone's going to love you for you but if you just pick people who make you feel great about yourself when you are genuinely you then that encourages you to continue being you and to not change aspects of yourself.

What does being fiercely you mean to you?

Being fiercely me to me means feeling confident in myself, being kind as well is important and just owning yourself with all your flaws or what other people might perceive to be flaws and just be unapologetic about it. This is me, take it or leave it.

Do you think it's easier to accept yourself as you get older?

I definitely believe that the older you get the more comfortable you are in your own skin. When you're in school you're wanting to fit in I guess and you're more aware of not standing out and being accepted is more of a priority when you're younger but I think as you get older you're just like okay yeah this is me, this is life I don't have to fit into a certain mould.

Growing up my mum didn't have the knowledge of how to deal with my hair type so it was just easier to put it back or straighten it but now there are tools out there, there's information everywhere so I feel like you're more confident to deal with your hair yourself.

Why do you think it's important to embrace the message of being fiercely you?

We all struggle with it I know I have been in situations before where I've said something or let something slide and you think why did I do that and it's because of the fear of how you are perceived. I think it's a continuous growth thing and I think as you get older you become more confident in the ways you deal with situations. I think we should be encouraged to be ourselves.

How can your story inspire others to be themselves?

I think my hair type is actually represented a lot more than other afro hair types which is something that needs to change. My hair type has kind of been the standard in representing black hair and I don't necessarily agree with that being true so I think regardless of your hair type, your curl type I think its all beautiful. I do take good care of my hair, my mums also got curly hair. Your hair doesn't have to look perfect all the time for you to feel confident and for you to love your hair. It's great, its unpredictable and you can't control it but love it. You're beautiful with it and it's a representation of you.
---
By

Millie Rae

,


01th March 2021