International Day of Friendship is celebrated on 30th July 2022, recognising those closest to us and the things they do that make our lives so much better.
Here at CLOUD NINE, we wanted to take some time to show appreciation for each other and dive into the friendships at the root of the business, giving a glimpse into day-to-day life at HQ. Here is what some of our team members had to say about each other…
---
friendships at cloud nine hq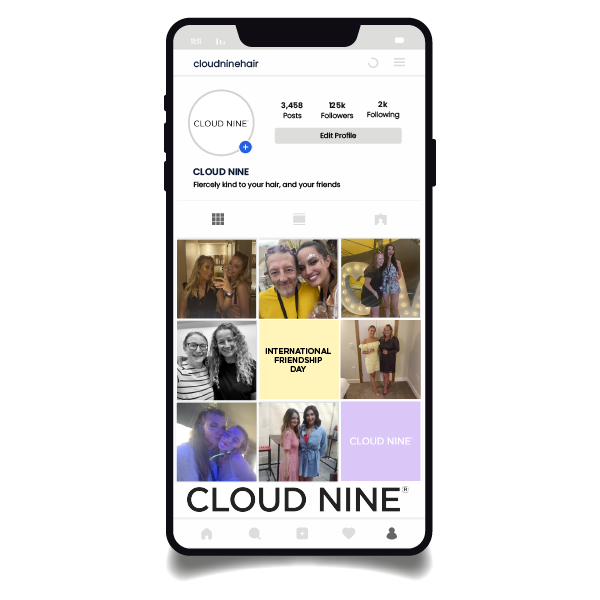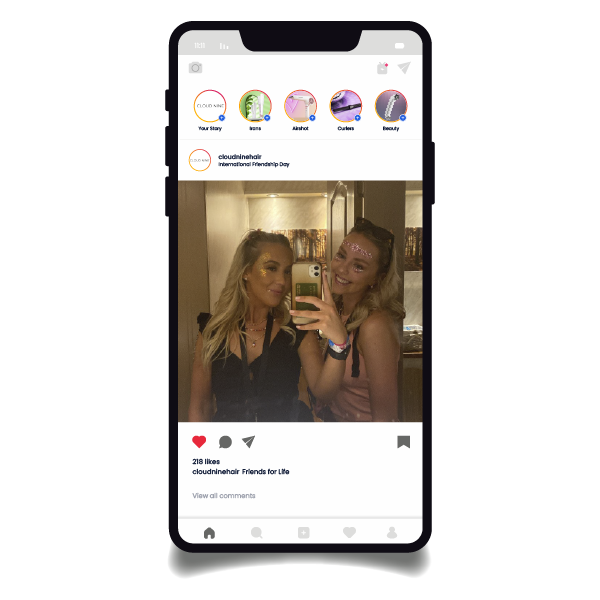 My favourite thing about Liv is that she's always up for a laugh, she's positive even when she's stressed and just radiates good vibes. We have both worked at CLOUD NINE for under a year, but we feel like we are a part of the furniture. Eleanor is always kind to anyone she encounters, a lovely person inside and out and can always see the positives out of a negative situation. We both understand we have bad days and need a reminder of how well we're doing, this is a great morale boost as it pushes us to want to achieve greater and makes us realise we can do anything we put our minds to. Eleanor you always give the best advice and have the kindest soul, thank you for being an absolute ray of sunshine. Liv, I love our daily catch ups and giggles on the lunchtime walks, I can't wait to see our friendship grow stronger over the next few months, I already know I have made a friend for life.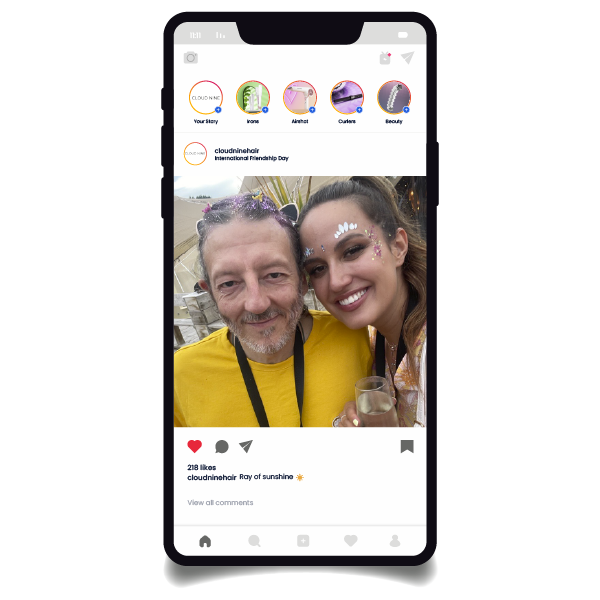 Having friendships in the workplace makes every day even more enjoyable, and I feel fully supported not only in work but also outside if I needed help. Paul is a ray of sunshine and not only brightens my day up but everyone else he sees at work. Danielle's ability to be positive in any situation and her endless thoughtfulness are my favourite things about her. We both enjoy nice food and together we formed Friday lunch club, we are both chatterboxes so naturally we get on. We are able to positively bounce off each other and offer our help if we recognise tough times. Paul, thank you for making me feel so comfortable and settled in at CLOUD NINE. I know our friendship will continue to blossom over the years with our similar sense of humour and spirit. Danielle, a huge thank you for just being you. Not only do you do an excellent job and are dedicated 100% but you always have time for a chat and a laugh.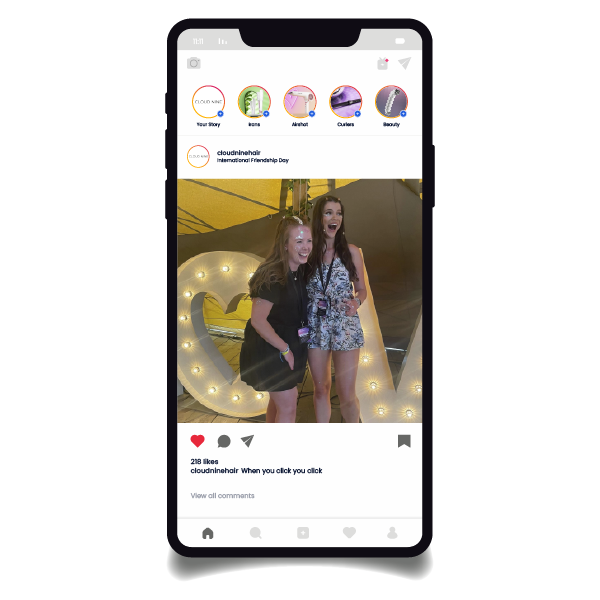 Work has enabled us to laugh together a lot and create lots of funny memories. We work in completely different departments, but I feel like when you click with someone you just click and that let us build a strong friendship. I think we bring the best out of each other, we can completely be our crazy selves. We empower each other to make the best decisions, to always be honest and the trust we have makes a great friendship. Friendship in the workplace provides a whole new support network outside of your personal life and every person here inspires me to push myself and achieve big things. Thank you Vic for always listening, you bring light and laughter into my days without fail. You're so lovely, kind and always put others first – I think we will have a friendship forever, you have my love always. Rachel thank you for taking me under your wing from day one, coming to work every day wouldn't be the same without you. I love our friendship and know I have got a friend for life.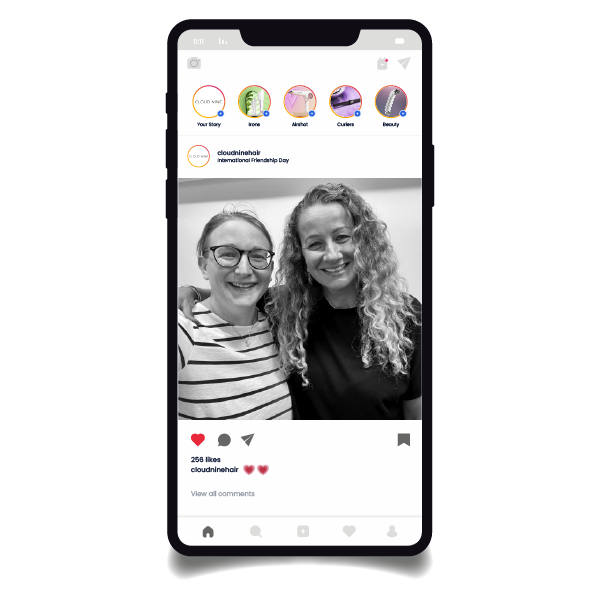 We became friends pretty much as soon as we started working together and realised we had very similar approaches to work and definitely the same sense of humour. Having friends at work is important because you spend a good percentage of your life working, therefore working with people whose company you enjoy and who also have your back makes a huge difference. Our openness and honesty coupled with our shared sense of humour tend to make the tough weeks easier, along with our love of Schitt's Creek! Thank you Katie for always giving me confidence that Salesforce is in very safe hands and for approaching everything with positivity. I think for me, it's a thank you for being such a cracking leader, your communication is second to none and you define empowering your team to achieve their best.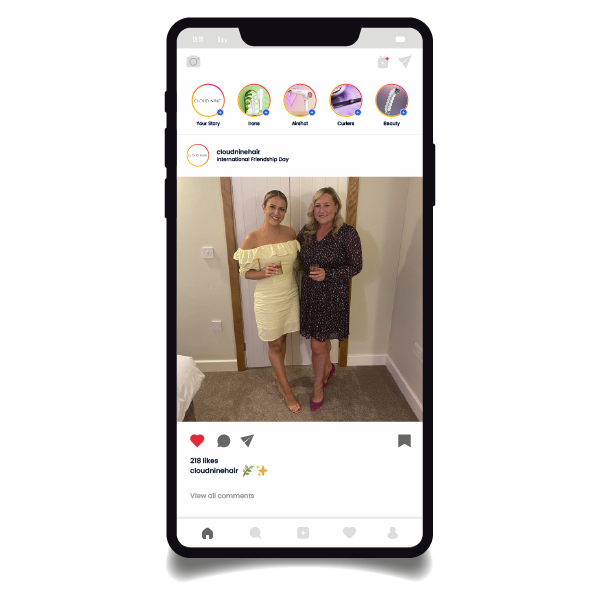 Through Soph's previous experience with PR, when she joined CLOUD NINE, we thought it was the perfect fit for us to work alongside each other. We have bonded over having the same breed of dog and our love of walking our pooches along with a good brew and a natter on a morning. I love Soph's sense of humour, wit and her ability to always make me smile every day. Becks is such a kind, trustworthy and caring friend. She brings a really fun yet calming influence to the office. If I'm ever having a bad day I know that Becks will be there to help with the perfect advice and armed with a brew. It's so important to have a circle of close friends in the workplace seeing as you spend most of your life at work! Whether either of us are having a good or bad day it's always good to know we have each other to share those moments with to support each other.
When I first started, Alice was the most welcoming face to sit next to, doing absolutely everything to help me get settled into the team. We definitely bonded over a Cortado, once you share a sweet chilli and cheese sandwich you know it's the start of a life-long friendship. My favourite thing about Catherine is her energy, she is infectiously joyous and fun to be around, one of those people who can light up a room just by being in it. Alice is the biggest ray of sunshine, the most genuine, caring and thoughtful person, and so receptive to who might be feeling stressed or needing a pick me up. Without needing to say anything, she knows when you need a funny gif or a coffee break. Catherine is incredibly emotionally intelligent so always knows what to do to from lovely little surprise pick me up gifts to just talking and having a little laugh with a cup of tea, she does it all! We are genuinely supportive of one another and want everyone to be their best versions of themselves.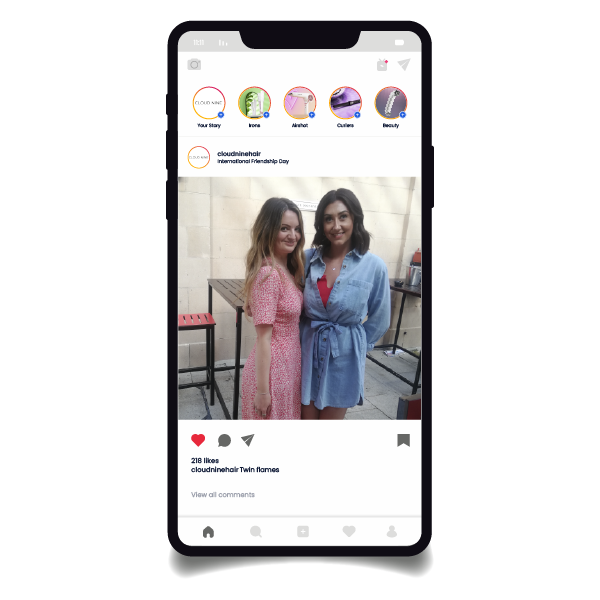 There are certain people that come into your life just at the right time and Beth is definitely one of those people. Beth empowers me to be the best version of myself as she is a constant support and cheerleader – if I'm ever having a day where I'm doubting myself, I know I can talk it out with her, and I'll forget what I was worried about. Thank you for just being amazing, I look forward to many many more wine catch ups! I am SO grateful to have met Suzi! We always joke that we are literally the same person but sometimes I forget that we've only known each other for a short period of time. I absolutely LOVE watching Suzi's confidence grow in everything she does and the belief she now has for herself as a person. Suzi is the first person to be there for anyone else, not just me, but I find it most inspiring that she values herself so much she knows when she needs to put herself first. This is a really rare quality to have and I hope that eventually she can teach me how to do this! Everyone needs a Suzi in their lives, life is so much better for having her in it!!
---
For more exclusive CLOUD NINE content and inspiration follow CLOUD NINE Blog.
---
By

Victoria Morrell

,


30th July 2022