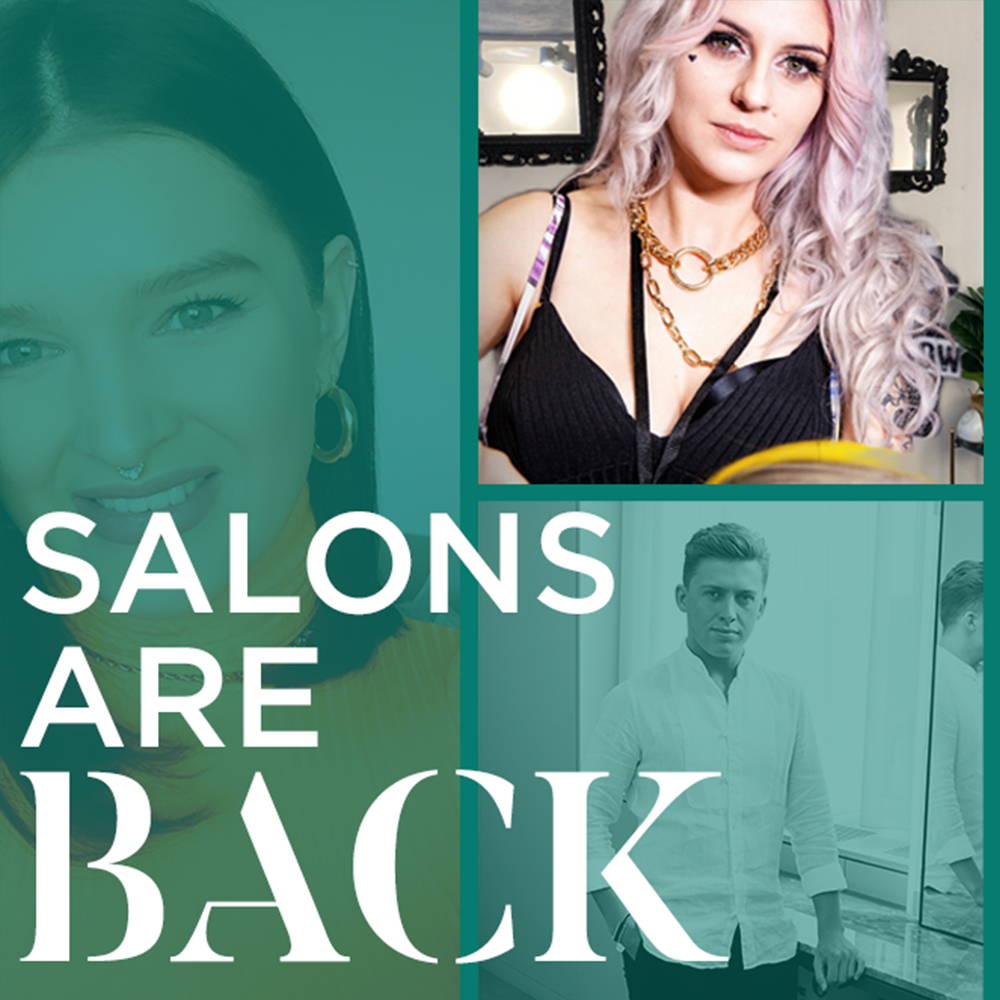 We spoke to salon owners and stylists about post-lockdown life and how it's affected the hairdressing world.
Salons are officially back open under strict guidelines and stylists are working around the clock to get everyone's roots done. We spoke to some of our favourite salon owners and stylists about how lockdown has been for them and how the 'new normal' changes the salon environment.
---
---
"For me, hairdressing is more than just a job it's my absolute passion and I really enjoy the social side too. So to have such a big break from it has been extremely difficult mentally, I have tried to use this break from the salon as a positive and I have spent a lot of time doing online education and improving my skills ready to be let loose on my lovely client's locks. 
I am looking forward to getting back behind the chair, however, as we all do - I have some anxiety about the big changes that are taking place and I believe it will take some time for stylists and clients alike to adjust to this new normal. 
It's important to be mindful that after 4 months with no hair colour, the usual quick root touch up may now be a colour correction, the first service back may be more lengthy and pricy while your colourist revamps your hair back to its former glory. 
Also remember to be patient and understanding if there is a little more waiting around while your hairdresser disinfects and prepares for you, but remember this is to keep you as safe as possible." 
---
---
We asked Ricky Walters, the owner of Salon 64 in Soho, how he felt about the salons re-opening, what lockdown has been like for him and how customers can help out during such a crazy/busy time… 
"I can't wait to open the doors of SALON64 once again! Although having a little downtime while in lockdown has been great, I miss the fast pace and buzz our Soho salon offers.  
 
We have provided everything possible to ensure our clients feel safe. From branded SALON64 masks and shields. Screens, between each section and even single-use cocktail glasses to allow our bar to continue serving safely. With so much effort and thought gone into every detail, all our clients really have to do to help is show their support and understanding. With a two thousand strong waiting list of people to get through our client's loyalty has never been more appreciated." 
---
---
"As a freelance hairstylist I, like most, have been through all the motions during the lockdown. It is, of course, normal to worry and feel like all you've built is dwindling away but that is not the case. I have had to remind myself that this unusual circumstance is in many ways a blessing, allowing us time to reflect on where we're heading, what our next steps will be and to spend our precious time on preparing for the reopening of salons and studios.  
As we approach July 4th let's not forget the positives, the amazing Live streams we've seen on social media and the copious amounts of gin we've consumed to get through the unknown!  
Now let's all pray those box dyes aren't so tricky to fix and we haven't forgotten all that colour training 
Good luck and don't forget to prepare your lunches! 
---
---
How do you feel about salons re-opening? 
"The day I go back to work, on July 4 it'll have been 16 weeks that I have been out of the salon. That's the longest time I've gone without doing hair in my 11 years in the industry, I've really missed it. Obviously, things are going to be a little different and I'm of course a little anxious, but nothing excites me more than being back in the salon with the team doing what I love. " 
 
What has lockdown been like for you? 
"The sudden loss of not having a structured routine was hard to deal with at first. However, for me, the lockdown has also given me the time out to self reflect and use the time productively, so I took part in 8 different digital education courses consisting of hair cutting & styling which were fantastic. in an industry where it's constantly evolving if there is a positive that I've gained from lockdown it would be the time I was able to invest in education." 
 
How can customers help hairdressers out during such a busy time? 
"The safety of our clients/teams is our highest priority. We kindly ask if clients can arrive to their appointments alone and on time to avoid overcrowding, book their future appointments online or telephone and pay by card in-store where possible, Wash hands on arrival and wear the PPE provided at all times. " 
---
---
I'm very excited salons are reopening and I get to reconnection with my gorgeous clients. Lockdown has been a rollercoaster, but I've really enjoyed the slower-paced life everywhere and the community atmosphere that's come out of it. I'm sure everyone is excited to have gorgeous hair again. Clients will need to understand that this is a totally new experience for both us and them, and we are all trying our best during this crazy time. Make sure you follow the rules set out by your salon, and be kind to your stylist because they are probably as nervous to be back  "In the real world" as you are.
---
By

Millie Rae

,


15th July 2020