At CLOUD NINE we care about your hair as much as you do, which is why we are always looking for ways to pamper and treat gorgeous manes as they deserve. 
This week we launched CLOUD NINE Silk featuring our new 22 momme silk scrunchies for the ultimate, self-hair. But what makes a silk scrunchie better for your hair? Let us explain.
---
silk scrunchies - THE BENEFITS
We all know scrunchies are a look, but did you know they also have serious hair health benefits as well?
A common question we get asked is 'What are the benefits of using a silk scrunchie?' and 'How do silk hair ties keep your hair healthy?'.
Well we are here to guide you through and provide you with all of the key benefits of using our favourite hair accessory.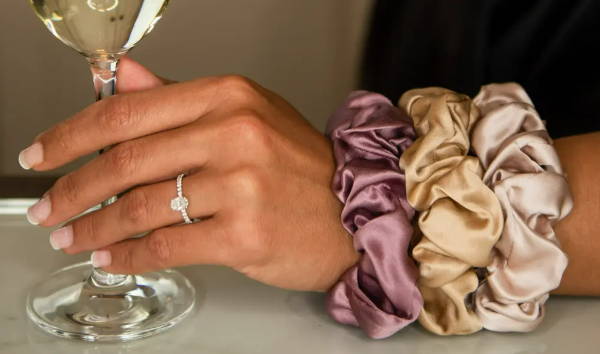 1. REDUCE FRICTION AND DAMAGE
Silk scrunchies reduce friction. Bed head and breakage can be caused by cotton fibres pulling or snagging the hair while we sleep. The same can apply for hair accessories. Elastic bobbles or cotton scrunchies can create friction putting them in, wearing them and taking them out. Silk scrunchies glide through the hair, provide enough support to keep hair looking gorgeous while minimising breakage and the appearance of kinks.
2. MOISTURE RETAINING
Cotton on the hair can be drying, whether that be from your pillow or from your accessories, either way this can cause breakage and split ends - no thank you! Silk scunchies absorb around 30% less moisture than cotton meaning the hair is able to retain moisture, promoting growth and healthy condition.
3. WEAR DAY AND NIGHT
Silk scrunchies can be worn day and night without the need to worry about damage. Using a silk scrunchie during the night can prevent tangling while sleeping, this is also great for hair extensions - plait before bed to keep them soft and smooth.
4. HIGH QUALITY, LONG LASTING STYLE
CLOUD NINE Silk is made with the highest quality 22 momme silk. Designed with kindness in mind for your hair and for the environment. Higher quality, means longer lasting style. Made with natural products, designed to make your hair tyes last longer for a more eco friendly option.
5. REDUCE FRIZZ
Less friction means less frizz - need we say more! Ok, we will say a little more. Silk fibres are cushiony soft on the hair, therefore creating less friction which can create frizz. So your hair will stay silky. soft and smooth!
We have a choice of silk scrunchies and better for hair products for everyone, in our NEW silk collection. Find yours here....
---
By

Suzi Scott

,


27th April 2022