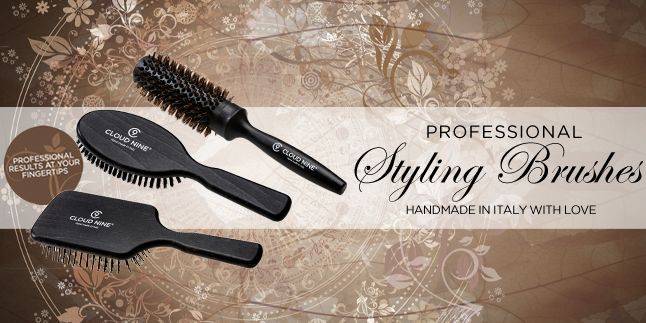 Professional results come from professional products and Cloud Nine's new luxury styling brushes help you get expert-like results at your fingertips.
Hand Made in Italy, our brushes manufacturer has 140 years of experience in making world renowned quality hair brushes. Our sustainably sourced materials and unique design make this a Cloud Nine Exclusive, which will give your hair a polished finish and an altogether kinder styling.
The trio of brushes consist of the Professional Paddle Brush; ideal for de tangling unruly locks, the Dressing and Styling brush which is extremely versatile, and the Radial Blow Dry Brush - perfect for creating super smooth tresses. All the brushes are hand made in Italy with love, exclusively for Cloud Nine.
---
Professional Paddle Brush
The professional Paddle Brush is an exquisite tool that combines function, form and beautiful design, all made to stand the test of time. With it's natural rubber cushion and POM pinned construction, this brush is hairdryer resistant and ideal for detangling and taming long hair.
---
---
"Good for longer hair and quick blow drying. Use this brush when putting treatments and conditioners in your wet hair to eliminate tangles." ~Leigh Keates, Global Creative Director
---
Dressing and Styling Brush
The Dressing and Styling Brush has a natural rubber and boar bristle blend to stimulate the scalp whilst gently polishing each strand of hair. The brush is both easy to use as well as being kind to hair.
---
---
"This brush is designed to suit any hair type and any style, this multi-tasking professional tool enables you to recreate up dos as well as dressing out curls and waves whilst minimizing damage to the hair shaft." ~Angel Montague-Sayers, UK Creative Ambassador
---
Blow Dry Boar Bristle Brush
The Blow Dry Boar Bristle Brush is a must have for creating high shine salon-inspired hair. The ceramic barrel helps reduce drying time and promotes healthy hydrated hair whilst the high quality boar bristles deliver an antistatic polish and shine to the hair.
---
---
"This is my no.1 blow dry brush and has its pride of place in my kit. It offers the benefits of a ceramic barrel to create shine and help set the hair, with the combination of soft boar bristle. The brush is made to last, the more you use it the better it becomes." ~Leigh Keates, Global Creative Director
The brush trio is not only practical, thanks to their design they are all kind to your hair . Whether you pick one or all three, you won't be disappointed.
---
By

Millie Rae

,


12th June 2013