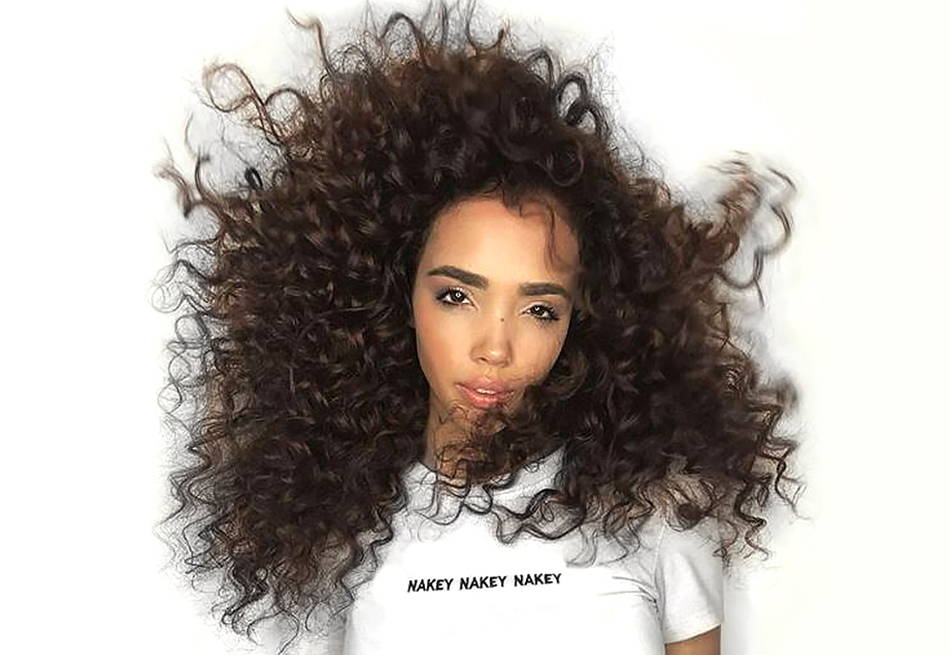 Master the art of overnight curls.
Curly haired babes listen up! We know that bedtime and curls don't always mix – What starts out as #CurlGoals can quickly turn into a frizzy, flat hair-mare come 7am. So, how can you make your curl definition last until tomorrow, and the next day, without having to wash and style all over again? Fear not! The experts at Cloud Nine have the answers. From using a silk pillowcase and curling mousse to perfecting your diffuser technique, we have the best insider tips and tricks help you zap frizz and keep your curls looking defined and bouncy overnight for your best #IWokeUpLikeThis hair yet!
1. Curling Mousse Is Your New BFF
Mousse is one of the unsung heroes of hair styling – But, if you're not yet a convert you're not alone. For some, mousse conjures up images of 'mum hair' and let's be honest those crispy curls of the early 2000s were not the one! But hair mousse is having a major revival and we're telling you how to use it RIGHT. It's all about finding the right formula and the right amount for YOUR hair. For volume and texture, apply a tennis ball-sized amount to damp hair before styling (slightly less for short hair), and work through until the product is evenly distributed. If you have thicker, longer or more unruly hair then you can be more liberal, but if in doubt use less; you can always add more later!
For a stronger hold, we recommend using Kérastase Discipline Mousse Curl Idéal, £22.90, which has an anti-frizz complex that works to keep curls controlled and defined– ideal for those who want a firm hold without any crispiness! Another option is Percy & Reed Abundantly Bouncy Volumising Mousse, £12.50, which has a lighter formula that is perfect for curly girls who want plenty of movement with a less firm hold.
2. Diffuse The Situation
We want to give you the best curls. The Airshot Hairdryer–which uses anti-static technology to reduce frizz–and our coveted Airshot Diffuser, are a match made in heaven for creating defined, bouncy curls. After applying mousse, section hair and twist with your finger to create more defined curls. Bunch your hair from the bottom and gently scrunch the diffuser against your head. Continue around your hair, section by section and once hair is dry, use the cool shot button to set curls in place and add shine!
3. Hair Brush Ban!
Trust us, if you want to keep those curls intact; step away from the hair brush! Brushing will wreck the curl pattern of your hair and create frizz and static. If you want to rid your hair of tangles we suggest using a wide tooth comb to gently tease knots and tangles.
4. Loosely Secure Your Curls
To keep your curls in place, secure hair in a loose bun to reduce frizz and avoid dents overnight. If you want to avoid flattening your hard-earned curls try the 'pineapple' which is a very high (and loose) ponytail that sits on top of your head. We recommend using a soft scrunchie, a silk hair tie or invisibobble to avoid snagging and kinks.
5. Catch Some ZZZ's On a Silk Pillowcase
The experts at Cloud Nine HQ are silk pillowcase converts! Trust us. Investing in a silk pillowcase might seem expensive, but oh wow is it worth it! We're talking reduced frizz and friction, less bedhead, reduced dryness AND styles that last so much longer!
6. Reawaken The Magic With a Curl Activator
A spritz of mist will reawaken your curls and give them a moisture boost! The new cult product for curly girls has to be Moroccanoil Curl Re-Energizing Spray 160ml, £17.85. This refreshing formula will reawaken hair in the early AM and give you glossy curls full of shine and Oomph!
---
By

James Wray

,


31st May 2018