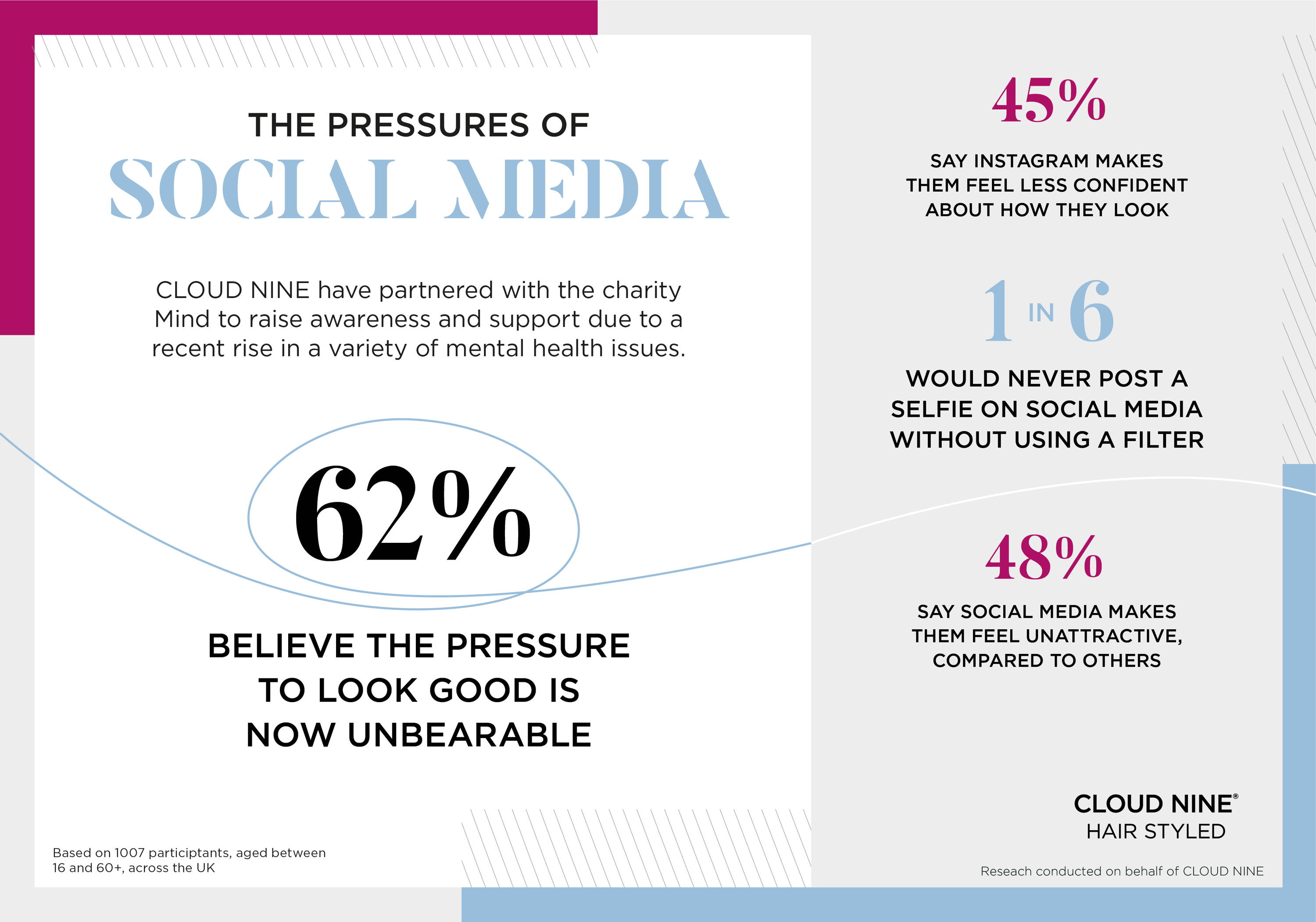 To get under the skin of how women are truly feeling, we carried out a survey with 1,000 women asking questions on self-confidence, self-worth and how social media has a part to play in self-esteem issues
The survey uncovered that a shocking 62% of women consider the pressure to look good has now become unbearable. A large factor of this is due to the rise in social media usage, with 45% of women saying that Instagram is the main source of their insecurity.
The survey also discovered that whether it's family, friends or their partner, 56% of women don't believe it when someone says they look beautiful and have been reduced to tears by their appearance at some point. This is simply not good enough and here at CLOUD NINE we're determined to support women and men to feel great in themselves.
To help raise awareness of mental health, CLOUD NINE have partnered with Mind. Mind is here to make sure no one has to face a mental health problem alone.
The CLOUD NINE Kind Collection will help raise vital funds for Mind with £10 from the sale
of each Iron to be donated.
Emma Ihsan, Head of Corporate Partnerships at Mind, said: "We are really grateful to CLOUD NINE for choosing to donate money from the sales of their new hair straightener to Mind. The money they raise will go to help Mind's services, which are more vital than ever at the moment.
These include Infoline which provides confidential information and advice about mental health, and the campaigning we do to ensure that the one in four of us who experience a mental health problem each year get a better deal."
How can you combat the social media blues?
Social media is seemingly everywhere so it may not be as simple as deleting your apps
– though going cold turkey for some might just be the solution! So here are some practical tips for anyone who's felt their own self esteem tumble from a social media scroll...
1. Remind yourself that some things just aren't real.
We're all too aware that filters, photoshop and fillers exist in the world of social media, but it can often get mixed up with the more emotional reaction we get from being bombarded with so-called perfection. A little gentle reminder can sometimes take the sting out of feeling less than perfect in comparison.
2. Have a feed purge
It feels good to have a spring clean and that's no less true on your social media accounts. Unfollowing accounts that make you feel less than goddess-like can help restore the joy back into your feed.
3. Follow some real queens
The term 'real' can mean different things to different people, but there are a whole host of people on Instagram making it their mission to remind you of what reality looks like and how beautiful that can be. Whether it's a make up (and filter) free selfie or body positive pics, there is plenty of beauty and inspiration to be found without a filter.
4. Skills not selfies
Self-worth of course partly comes from how we look, but focusing more on what we think,
feel and can do with our skills is often even more important. Try and follow more accounts that get you inspired to do, make and think. You might even discover a new hobby!
5. Limit your time
Instagram themselves even acknowledge the black hole that scrolling that be, introducing a feature that sends a reminder once you've spent a certain amount of time on the app. Set it to a shorter amount and see if the little nudge can encourage the good habit of stepping away from your phone for a bit longer each day. Even better, try a digital detox day. Putting your phone out of sight and out of mind lets you get on with something fun, relaxing or inspirational IRL.
Mind also have some tips on how to improve your self-esteem on their website. To find out more, please visit : https://www.mind.org.uk/information-support/types-of-mental-health-problems/self-esteem/about-self-esteem/
---
By

Millie Rae

,


16th September 2020