From the biggest TikTok hair trends to the most inspiring #hairtok creators, read Cloud Nine's HairTok Report for everything hair related on TikTok.
---
2022 #HairTok Report: The biggest hair trends according to TikTok

---
Taking a look at everything hair related on TikTok this year

Finding inspiration for your next hairstyle is an individual process. For some it's a Google search, others a scroll through Instagram, but most of us looking for some 'hair inspo' are turning to TikTok. Whether it be a glamorous up-do for a wedding, a curling wand blow out or a new vibe for your everyday look, #hairtok videos on the platform can gather millions of views as hairstylists of TikTok show the latest trends, hacks and innovations.
In 2021, #hairtok skyrocketed to the top of the beauty category on TikTok with a 20,000% increase in video views and a 3,000% boost in videos created. At Cloud Nine, we've created the 2022 #HairTok Report, by analysing the biggest hair trends of the year so far, the most popular hairstyle hashtags, the content creators causing waves in the hairstyle space and most in demand haircare products, all according to TikTok.
The biggest hair trends of 2022

We discovered the biggest hair trends to come out of 2022 analysing Google, Instagram and YouTube search volumes alongside TikTok views. Did your favourite make the cut?
---
1. Mullet
From Rihanna to Miley Cyrus, many stylish celebs have been seen rocking the mullet over the past few years but for 2022 this hair trend has taken the beauty world by storm. The 80s haircut is defined as shorter in the front and longer in the back. With 7.7 billion TikTok views for #mullet and 2.24 million Google searches worldwide over the 12 months, the hairstyle dubbed 'business in the front, party in the back' came out as the biggest hair trend of 2022.
2. Claw Clips
The must-have hair accessory this year is the claw clip. Available in a variety of sizes, colours and materials a claw clip can go with any outfit. Easy to use and effortlessly versatile, a claw clip can be used on a wide variety of hair lengths and textures resulting in its current popularity racking up 1.3 billion TikTok views and 141k Instagram searches in the UK alone, making it the second biggest trend.
3. Heatless Curls
For those days you need to give your hair a heat break, a whole host of methods to achieve heatless curls have made their way onto social media this year. From using dressing gown ties to socks, hairstyle hacks for this have gone viral which can be seen in the 1.9 billion TikTok views, 133k worldwide YouTube searches and 74k Google searches.
4. Wolfcut
Most notably worn by Billie Eilish, the wolfcut is the second most popular haircut to make our top 10 hair trends. Encompassing both the shag style and a mullet, a wolfcut has lots of layers on the top of the hair creating volume that frames the face. With 1.7 billion TikTok views and 221k YouTube views worldwide, people across the globe are trying to DIY this hairstyle as it lands in the top five.
5. Hair Oil
With numerous benefits to keep your hair healthy, hair oil provides shine, prevents dandruff, keeps your scalp hydrated and so much more. It's easy to see why this hair product has got users going wild on TikTok amassing 655 million views. With a variety of products on the market for different hair types, the demand this year has skyrocketed with 135k worldwide Google searches.
6. Curtain Bangs
If you haven't heard of curtain bangs, where have you been? The front framing look often accompanies the wolfcut mentioned earlier and consists of a long fringe that falls either side of the face, hence the term curtain. With 1.7 billion TikTok views from people cutting their own to debuting their fresh look from the salon, curtain bangs cements itself as a firm 2022 trend.
7. Sleek Buns
From a day in the office to a night out, sleek buns are a statement hairstyle that is as versatile as it is simple. But, how to achieve the perfect one? TikTok has gone wild with various tutorials and looks reaching 126.5 million views. The best thing about a sleek bun is that you can create one with short, mid or long hair.
8. Copper Hair
The hair colour of 2022 is copper, from the likes of Kendall Jenner debuting the look earlier in the year to Sydney Sweeney, the warm tone is on fire (literally). Google searches for this hair colour have reached 84k over the past year as people search for inspiration and products to achieve the look. Complimenting a variety of skin tones and with less upkeep than bright red, the copper hair trend is here to stay.
9. Hair Gems
Add some sparkle to your life and hair with hair gems. The Y2K inspired trend takes ninth-place in this year's top hair trends with 73 million TikTok views and is perfect for adding some extra oomph to any look, from festivals and parties to simply adding to your everyday look (because, why not?), this look can be achieved numerous ways with products selling out all over as people try to get the look.
10. 90s Haircut
Completing the top 10 hair trends of the year is a blast from the past with the 90s haircut. As the fourth haircut in the top, 90s haircuts also incorporate layers showing that there is a clear theme in how we want our hair to look right now. Perhaps most famously worn by Jennifer Anniston as 'The Rachel', this hair trend has clocked 272.7 million TikTok views and 40,500 worldwide Google searches as nostalgia takes over.
---
The most popular hair hashtags on TikTok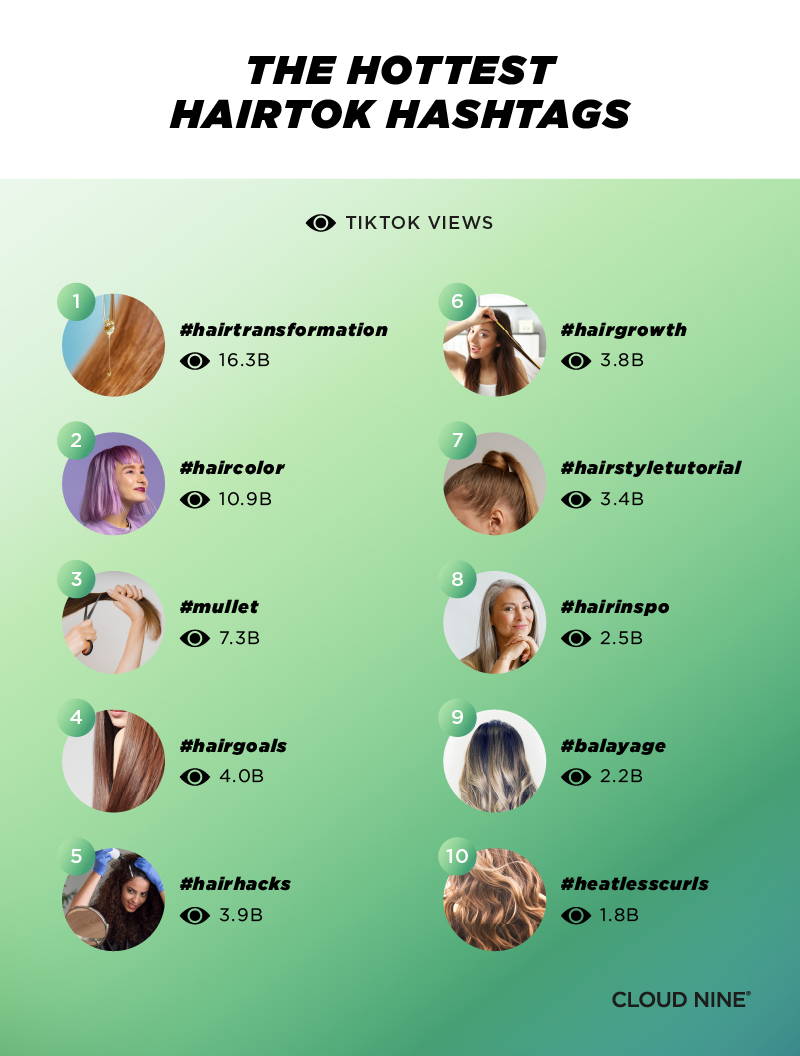 In 2022 hashtags are a key way of how we search, especially on social media. But which hair-related TikTok hashtags have the most views?
We all love a transformaton, right? From a hair cut that completely changes the face to a new hair colour that compliments the skin tone and brings out the eyes, #hairtransformation takes first place as the most popular hair hashtag with 16.3 billion views.  
Hashtags relating to hair color growth, tutorials and insipiration are all trending indicate one clear thing - people are turning to TikTok for hair education and with some of the amazing content out there, we don't blame them!
#haircolor sits in second place as TikTok provides the perfect place for us to hunt out inspiration for our next colour and see real life examples.
#hairhacks is sitting in fifth place with a huge 3.9 billion views as we all look for easy hacks from looking after our hair condition to hair styling and colouring.
---
The most popular #hairtok creators on TikTok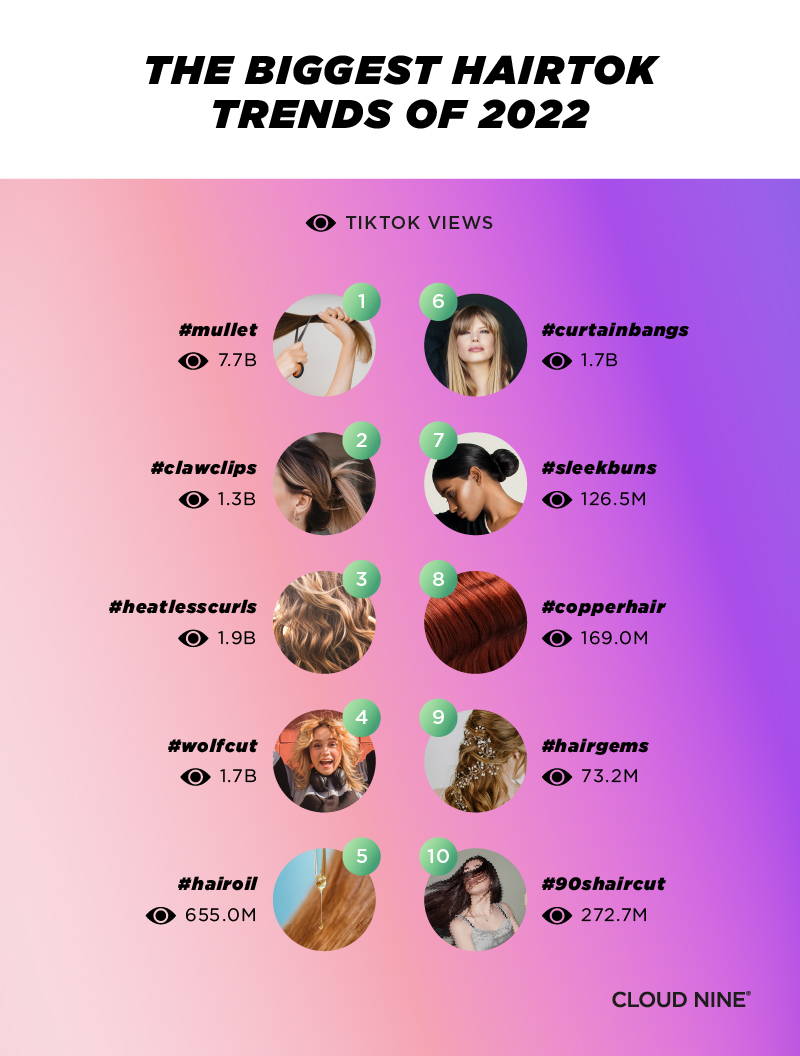 We know #hairtok is the most popular hashtag for hair content on TikTok, but who is dominating this space?
---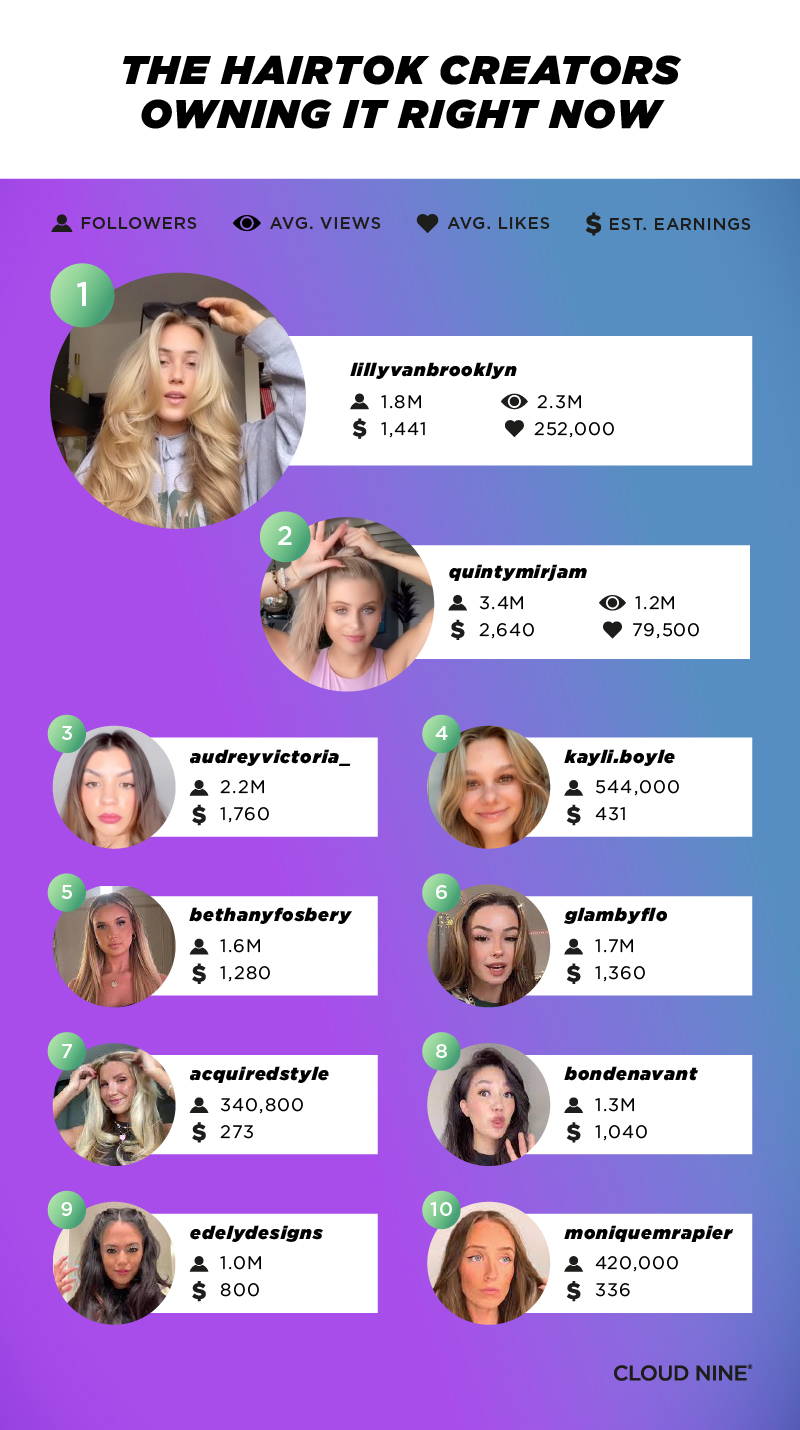 Taking the top spot in our ranking of the most popular HairTok creators is @lillyvanbrooklyn, the American hair guru is known for sharing tips particularly focusing on haircare. From her favourite products to routines, Lilly places an emphasis on non-toxic products. With 1.8 million TikTok followers and average views of 2.3 million per video, Lilly could earn an average of $1.4k per post, giving her the HairTok crown.
In second place is @quintymirjam a TikTok creator from the Netherlands. Quinty has the highest number of followers in our report with 3.4 million and could earn an average of $2.6k per post. Specialising in tutorials, Quinty is the go-to girl for finding the latest hacks and tricks to achieve the latest trending hairstyles with ease.
With 2.2 million followers and over 1 million average views per video, taking the third spot is American creator @audreyvictoria_. From braids and ponytails to hair hacks and products, the successful HairTok creator does it all. With the potential to earn $1.7k per post, the popular TikToker can also be found on YouTube.
Are you feeling inspired? Whether it be to try out the latest hair trend or give one of the ten most popular HairTok creators a follow, you can create any style with ease with our hair curling range. Who knows, you may create the next big hair trend…
---
For more hair inspo and CLOUD NINE insider knowledge follow CLOUD NINE Blog.
---
By

Suzi Scott

,


21st September 2022