We've got you covered
Delve into our quick and easy guide of how to curl hair with a straightener for beginners, made simple with the 2-in-1 Contouring Iron Pro.
Are you tied between looking EXTRA GLAM at 8am and clinging onto your covers for an extra five minutes in bed? Getting ready every morning should be as easy and stress-free as possible and learning how to curl hair with a straightener could help you save time and achieve a fresh-out–of-the-salon blow dry from the comfort of your own home. Interested? Read on to learn more about our straighteners.
We're here to break the stereotype that it's not just the elite who can curl their hair using a straightener. Anyone can do it. You can do it. We believe in you.
With two quick and easy hair curling hacks, we'll show you how to curl with a straightener, mastering the art of creating full, voluminous curls or flawless flat waves with our simple step by step guides. CLOUD NINES' versatile 2-in-1 Contouring Iron Pro makes curling and waving, smoother. Easier. Faster. See for yourself…
It might take a little practice, but we promise you'll have the technique nailed down in no time.
P.S. Don't forget to apply our thermal heat protectant, Magical Quick Dry Potion, before you start to ensure maximum protection and super glossy locks.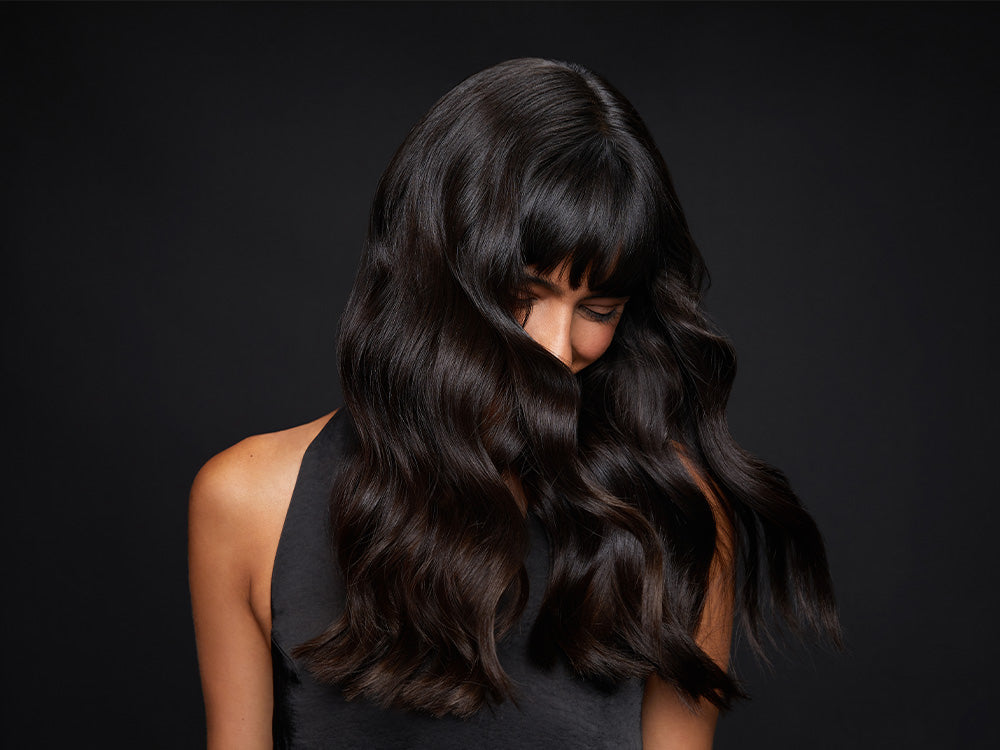 Top Tips When Curling With The Irons
Learning how to curl hair with a straightener can seem daunting at first, but we promise, creating salon professional curls is actually a lot easier than it looks.
Allow CLOUD NINE to be your hairstyling guru and follow our easy step by step guide to achieve your desired curl or wave.
STEP BY STEP GUIDE:
Start by working in small sections so you can easily control the iron to create your curl.
Simply glide the Iron through the hair and keep it moving in a rotational spin to create a defined curl.
For a tighter curl, use a slower and more deliberate motion.
For a looser curl, speed up the motion.
Repeat to the rest of your hair for your desired end look.
Let your gorgeous curls cool down, and comb through with a wide tooth comb for a gorgeous, soft curl look.
* Hot Tip: Direction is super important so always make sure to curl the hair away from your face*.
Flat Wave 
If you're a long mane lover and wondering how do you curl long hair with straighteners or a cropped queen looking for inspo on how to curl short hair with straighteners,look no further than effortless, chic and widely popular flat waves (or flaves).
Flat waves are the perfect middle ground between straight and curled hair - helping to create a soft and easy-going finish to your hair in less than no time.
STEP BY STEP GUIDE:
Start by separating your hair into even sections.
Begin to shape each section into a curve and work the Original Iron down the hair, alternating the direction.
Repeat throughout the hair until you have your desired waves.
Once complete, run your fingers through the hair to loosen and shape the waves.
Why is curling with the 2-in-1 Contouring Iron Pro so easy?
We've invented curved plates, so you can reinvent your style. Our revolutionary new styling tool makes curling and straightening easier and faster. Our one-of-a-kind Curved Plates are contoured into an interlocking arch shape. So you can create perfect curls, waves and flicks. Smoother, easier, faster.

Learn more about our iconic CLOUD NINE features.