At CLOUD NINE we care for all hair. Fine hair, thick hair or barely there hair. Coarse hair, fragile hair or rebellious hair. We care.
Our styling tools are designed to be kinder to all hair - whatever your hair type, whatever your style.
But what is Kinder to Hair Technology? Take a closer look at the science behind CLOUD NINE products and how this benefits your hair.  
---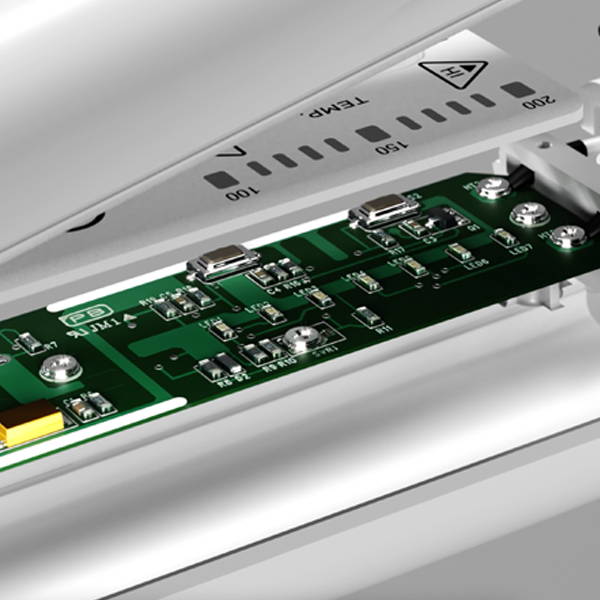 Variable Temperature Control
All hair is unique, so Variable Temperature Control is a key design feature for all of our products as this allows you to find the right heat for your hair. You know your hair better than anyone, so we simply want to provide you with the tools you need to achieve your unique style, without compromising your hair's health, strength, softness or shine. Our Core and Premium Collection straightener temperatures range from 100 - 200 degrees, Wands range from 125 - 175 degrees and our Airshot hairdryer provides three optimal heat temperatures, all designed specifically to suit every hair type.
Mineral Infused
We infuse our tools with sericite and tourmaline but what are these healing minerals and what do they do? Sericite is a mineral only found in South Korea, sourced for its positive effects on the hair. Shiny and shimmering in appearance sericite adds smoothness and gloss to the hair, it also has anti-ageing properties to seal hair colour, so you don't have to worry about colour fade. Tourmaline is a precious gemstone used in our heat styling products as it has ionic and infrared properties. Negative ions from tourmaline break down water molecules for the hair to absorb, and free radicals created by the positive ions present on the hair are neutralised allowing for moisture retention and an anti-ageing effect. The result is frizz-free, smooth, shiny gorgeous hair.
Floating Plates
Floating ceramic plates are designed to actually move with your hair while you style. Cushioning the impact throughout each section therefore minimising any dragging or pinching. This reduces the pressure on the hair, reducing breakage and friction which can create unnecessary damage. Leading to a smooth, glossy long-lasting style.
Revive Mode
The Premium Collection Irons feature exclusive Revive mode. Revive massages even heat distribution inside the hair instead of drying out the external structure by vibrating the plates 8000 times a minute. The vibrations minimise friction on the hair to tighten the cuticle, resulting in a smooth, shiny finish without the damage from pulling or snagging. Revive sets the temperature of the iron to 150 degrees, allowing you to style quicker and more effectively at a lower heat. Revive is an additional treatment while you style, to keep hair at optimal health and restore it from damage. The result? A healthier finish that is touchably soft and ultra-shiny.
Colour Protection Technology
At CLOUD NINE we understand hair and how important it is to you. We have researched the damaging effects of excessive heat on colour treated hair that can lead to dullness. Colour protection technology allows you to style more effectively at lower temperatures and provides protection from fading or stripping. Ensuring your colour is never dulled down for style lasts and lasts.
Anti Static and Cool Shot Technology
Our Airshot and Airshot Pro have a range of features designed specifically to target key concerns when styling including anti-static, anti-flyaway, variable temperature and cool shot technology. Like our straighteners and wands, our hairdryers heat elements are infused with healing minerals to reduce static and flyaways, variable temperature allows you to choose the temperature that suits your hair type. Hair sets in place as it cools, so to complete your look you can use the cool shot setting - sealing the cuticle and boosting shine for a beautiful, longer lasting blow dry.
---
---
---
By

Suzi Scott

,


10th May 2022