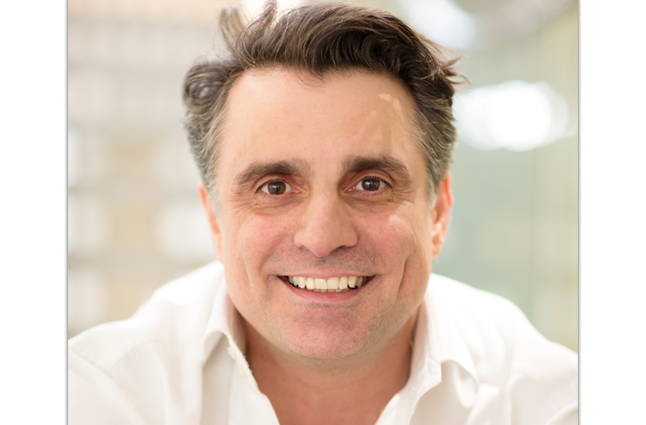 Lino Carbosiero MBE is one of the UK's top hairstylists and we had the absolute pleasure to find out a little more about him!
Your career dates back to the 1980s. How did it all start and develop?
In 1979, I needed a Saturday job and consequently I started working at a local salon in Windsor as a sweeper and shampooer. The Salon had a basement full of Italian goodies, such as shoes and pasta, which I spent most of my summer holidays selling these for the owner, Franco. Upstairs was the salon, which was forefronted by another man called Franco, he was an extremely talented hairdresser and also had great flair with his clients. Originally, I was intrigued by this, as not only did his cuts produce great results, but he also provided an invaluable, all-round experience for the customer. This enabled me to learn important qualities that would help me throughout my future career. I knew that in order to pursue a successful career, I would have to be in London… As soon as I finished school I joined the New Cavendish Street branch of Neville Daniel, which, at the time, was one of the top central London salons.
As a teenager coming from humble beginnings, it was truly an awakening into the glitz and glamour of London's high society. I knew from that very first day, i was going to work towards being the very best hairstylist I could be. During the early days, I must admit that being the 'assistant' was sometimes a tough and thankless job, but I always remember my late Father's words of advice to me that were "Always keep one eye on the job in hand whilst the other watching and learning what is going on around you" that has always remained in my mind.
I developed my style by learning from all the stylists around me. They all had different elements that I drew from that made me into a stylist. Within one year I was a qualified hairdresser and working as a junior stylist. My clientele grew and after two years there I was fully booked and became one of their busiest stylists. In 1985 I left to open my own salon with fellow stylist Gerald Monaghan. We opened in Blandford Street W1 under the name of Gerald Lino. When we closed the salon in 1993, we both joined Daniel Galvin and helped to build the styling department. 
When a client comes to you and says "Help me" what do you take into consideration before deciding on a style?
The most important thing when someone is in need of help is always to listen! I encourage clients to show me pictures of what they like and want. The use of an Ipad or phone is such a valuable tool now because it means they can show you within seconds what they want. Once you have determined what a client wants, I can advise them whether it would a) work with their hair and b) if it works with their face shape. You can always adapt to suit when it comes to hair, even if it is not exactly what the idea was initially. The most important thing is to 'Trust and listen to your clients'.
How did it feel to be appointed a MBE?
To receive the MBE was truly amazing. I was humbled to be acknowledged in this way for my work within the hair industry and historically to be one of very few hairdressers ever to be honoured in this way. I have always been a great supporter of the royal family and to be invited to the Palace alongside my family is something incredibly special.
You have worked with a great deal of celebrities. Can you name of a few and some of your favourite looks you created?
I have loved working with so many different people who include many famous celebrities too, from Music, Actors, Sport, Editorial, Tv Personalities, Politics and Royalty. Obviously I cannot mention them all as I think the number reaches close to 300, but here are just a few I have worked with over the years… Madonna, Adele, Kyle, Dustin Hoffman, Kevin Spacey, Catherine Zeta Douglas, Rachel Weisz, Anna Freil, Ant & Dec, Amanda Holden, Sharon & Kelly Osbourne, Paula Radclife, Jenson Button,Harry Kewell, Zara Phillips, David & Samantha Cameron and Hilary Clinton .
One of my favourite moments was when we spent all day trying to capture an image of Kylie for her first Album cover. We only had that one particular day to do it because she was flying back to Australia. I had a clear image in my mind of how the 'look' should be created, although nobody was really having any of it. Finally, at the end of the day and with moments to spare, the director of photography agreed that I could have one roll of film to prove my point. For me this was the breakthrough because in the end they used this image and my relationship with the record company grew. This led me to create looks for all their future acts. Kylie's album was well received and sold over 1,800,000 copies… It was wonderful to receive a framed platinum disc as thanks from the record company.
Can you imagine your life not being a hairdresser? If not, how come?
I cannot imagine a life without cutting hair, even though it is a physical and mental strain on one's body. There is really nothing like the buzz and banter you get in hair salons and I'm pretty sure that most people working within this industry would agree. The fast pace and adrenaline rush combined with compassion and trust motivate you to be a success. It is undeniably addictive.
What's your favourite Cloud Nine tool and why?
At the salon, we come across so many different types of hair so it is important for me to use quality equipment. That's why my favourite Cloud Nine tool would have to be the hair straighteners - the heat regulator is so accurate, I love them!
Do you have any tips for any aspiring stylists out there?
Being the political Ambassador of the Hair council, it has enabled me to offer a voice and guide for aspiring stylists. I am trying to ensure that every young apprentice gets the appropriate training in order to become successful. I would tell anyone who is entering into this hair industry to stay true to themselves but always listen to the client. "A trim is a trim, not a license to cut it all off"!
---
By

Millie Rae

,


09th May 2016