Game Changing Taming on 4C Hair
Different hair types require different hair care routines, from washing to products. 4C hair is tightly curled (often coiled) hair that is also really thick, you can find out more about looking after 4C hair in our expert guide.
Benefits of the CLOUD NINE Original Hot Brush for 4C Hair
The Original Hot Brush has an array of innovative technology and features that make it the perfect heated styling tool for 4C hair.
Long and Mineral Infused Bristles

The Original Hot Brush bristles are infused with our signature duo of moisture-locking minerals: Sericite and Tourmaline. These minerals help keep the hair shinier, smoother and stronger, and as they are on the bristles they can reach every strand of hair from root to tip. The Hot Brush has also been designed with a flat head and tall bristles that hold more hair so that your entire head will be styled. 
This is great for 4C hair as the tight curls and coils so it can be difficult for a regular heat styling tool to reach every strand and the moisture-locking minerals prevent dryness and breakage.
Lightweight Design

The Original Hot Brush is nice and light which is ideal for 4C hair, particularly as it is very thick and requires a little extra time to style. The lightweight design means you can style your hair without tiring or getting wrist aches (we've all been there), and it is easy to smooth hard-to-reach places on the head.
5 Heat Settings:

4C is one of the weaker hair types that does not respond well to regularly using high temperatures. However, this does not mean that you can't use heat on 4C hair, just that you should always use heat protection products and lower temperature settings. The Original Hot Brush has five heat settings, ranging from 110°C - 190°C, this is perfect for people with 4C hair as you can use the low-to-mid range of temperatures and still achieve the desired sleek look without compromising your hair's health.
Designed with Hair Tame Tessellation™

The Original Hot Brush has our innovative Hair Tame Tessellation™, meaning that the bristles don't unnecessarily pull on the hair causing unnecessary breakage. Cleverly positioned at the right angles, the Hot Brush uses the perfect amount of pull.
Hair Tame Tessellation™ is a great feature for 4C hair as this hair type is prone to breakage due to the natural hair oil and minerals being unable to travel down the hair's zig-zag curl pattern.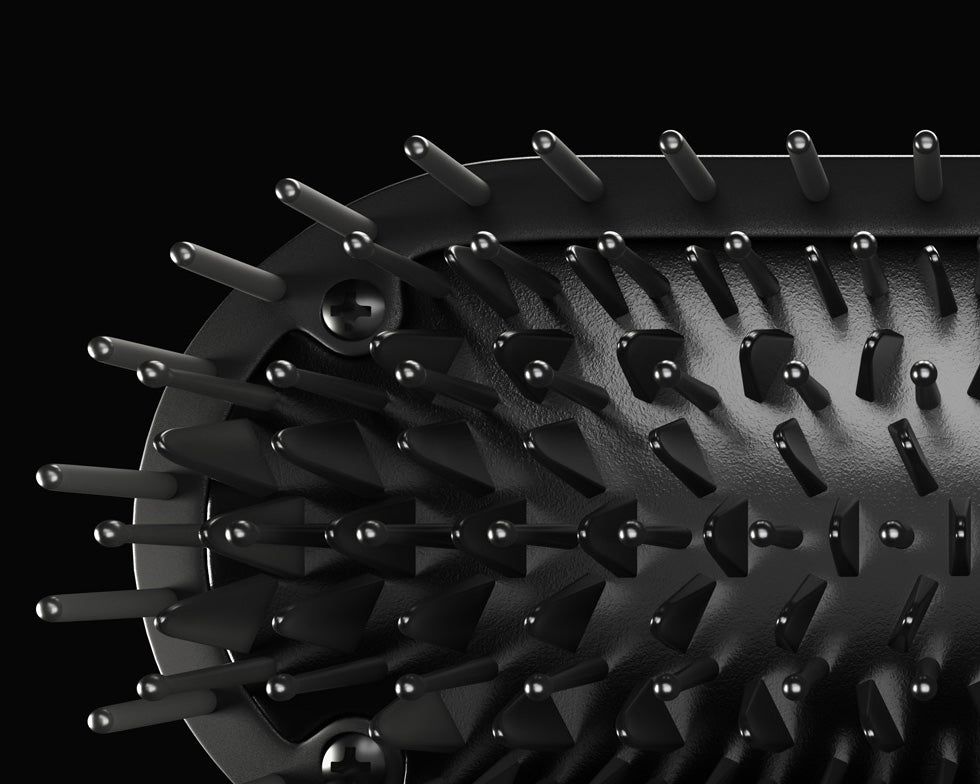 How to use the Hot Brush on 4C hair
Firstly, you should always use The Original Hot Brush on dry hair. The best part about the Hot Brush is that it is quick and easy to use, so there are only a few simple steps you need to follow to style your 4C hair:
Ensure your hair is dry and detangled thoroughly using a wide-toothed comb or flat paddle brush
Section your hair and spray heat protectant, our

Magical Potion

reduces heat damage and the oil formula locks in moisture - perfect for 4C hair
Starting from the back turn on The Original Hot Brush (it heats up to 150 degrees in just 20 seconds), lift a small to mid-sized section of hair and starting from the root slowly move the brush downwards
Repeat this on all hair sections across the head, leaving the front till last and you'll have a sleek smooth hairstyle.