How do you use a hairdryer diffuser? Perhaps you have naturally curly hair and are keen to try this mysterious-looking tool, or maybe you have already invested, and you're at a loss as to how to use it. No fear! We have the definitive blog post to help you become a dab-hand at using a hair dryer with a diffuser in no time.
A professional hair dryer with a diffuser is a highly sought-after tool that works by dispersing the air from the hairdryer to reduce frizz and enhance the natural texture of the hair, helping to create the perfect blow dry. Read on to learn more.
What is a diffuser?
Put simply, a hair dryer diffuser attachment is a round, plastic attachment that you can slide onto the nozzle of your hairdryer. A diffuser works by spreading the airstream over a wider area in a more controlled way.
Diffusers are the perfect hair accessory for those with curly to wavy hair types as they can help to keep the natural curl pattern. Without a diffuser, you can easily blow curls out of shape and into a frizz.
How do you use a diffuser?
So, what exactly does a diffuser do for hair? To get the most out of your diffuser, you must use a low heat and speed setting to prevent the hair from tangling. This makes the process a long one but for those wanting to banish the frizz entirely, usually time worth spending.
Our Airshot diffuser allows you to adjust the airflow to cater to your hair type. You can do this by rotating the nozzles to allow as much or as little air to travel through.
Before you begin, spritz your hair with the CLOUD NINE Magical Potion Spray, then place a section of hair onto the diffuser and press it up against your scalp as you blow dry. Ensure that you tilt your head into the diffuser rather than applying the heat downwards. The airflow should always be pointed up, therefore, stabilising the diffuser over the nozzle.
To achieve the best results from your diffuser, apply a curl-defining product beforehand.
Who can use a diffuser? 
Anyone can use a diffuser dryer attachment, however, you should get the best results if you have an afro or naturally curly hair. If you have wavy hair which you instinctively straighten, perhaps try this technique to bring out your most natural curl pattern - you might be surprised by the outcome!
Top Tips
De-tangle your hair when wet. This will help to minimise your risk of frizz. Gently combing your hair in the shower with a wide-toothed comb will give your hair the best chance of forming its natural curl pattern.
Try to avoid rubbing your hair with a towel. Wrapping your hair in a t-shirt, soft rag, or microfiber towel to squeeze the excess water is much less abrasive to the hair, which means less frizz to your curls.
Start by drying the ends of your hair and moving up toward the roots as you dry. Flip your head upside down to achieve further volume at the roots.
Diffuse the hair to about 80% dry. Letting your hair air dry towards the end will give it a bouncy, hydrated finish.
Bring out your hair's natural texture and take down frizz. The Airshot Diffuser is the partner to extra volume and definition.
Bring on the volume
Each of the Airshot Diffuser's contoured fingers works to lift each hair strand to define hair and add volume.
Diminishes frizz
The Airshot Diffuser works to eradicate frizz by dispersing the air carefully between your curls.
The heat-resistant Airshot Diffuser works with the CLOUD NINE Airshot for a style that lasts.
The Airshot Diffuser
Accentuate your hair's natural texture and diminish the frizz, adding extra volume and definition with CLOUD NINES iconic Airshot Diffuser. Discover today.
Get the Siren Waves
Achieve forever chic, effortless, and timeless waves in minutes using our Airshot dryer and diffuser.
Head over to our blog to learn more about how to use a diffuser and the innovative hairstyles you can create.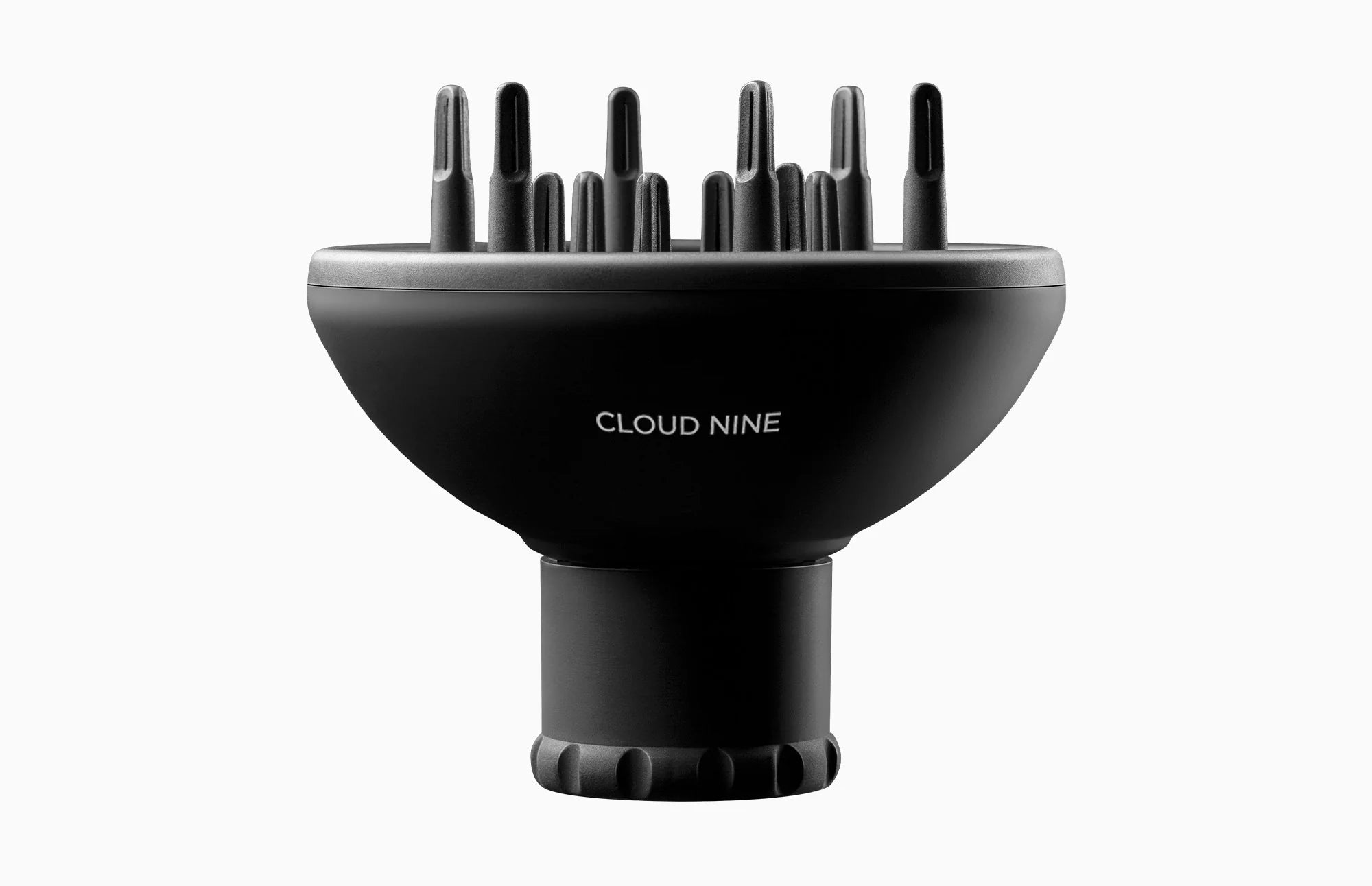 Step-by-Step Tutorial
The ever-chic beachy wave look is universally adored and shouldn't be just for Summer.
But getting the perfect loose curls can be a little daunting. We've put together some simple steps, using our Airshot and Diffuser to make it oh-so-simple.
The Airshot Diffuser is a fabulous little tool designed to tame your curls and put frizz at bay!
The Cloud Nine Diffuser has a few nifty little features which make it the ultimate curl styling accessory.
Adjustable airflow, allowing the heat to be distributed evenly
Silicone base, meaning your diffuser will fit any hairdryer.
Step 1
Prep your hair using a mouse or a curl cream and liberally apply our Magical Potion Quick Dry Spray.
This little miracle in a bottle will halve your hair drying time while protecting your hair from the heat of the hairdryer.
Step 2
Section hair and twist with your finger. This will make sure your curls are nicely defined.
Step 3
Position a section of your hair into the Diffuser and turn the Airshot hairdryer on. Using medium heat and power, hold in place until the section is dry.
Step 4
Continue to use the diffuser in this way all over your hair, section by section.
Step 5
Once your hair is dry, use the Airshot cool shot button to cool down the curls, so they stay in place.
Again, place sections of your hair into the diffuser while pressing the cool shot button.
Top Tips:
Do not brush your hair before drying with the Diffuser – if you need to remove tangles, use a wide-tooth comb straight after applying the Magical Potion.
When using the Diffuser, don't move it (massage) around your hair. This will only cause frizz.