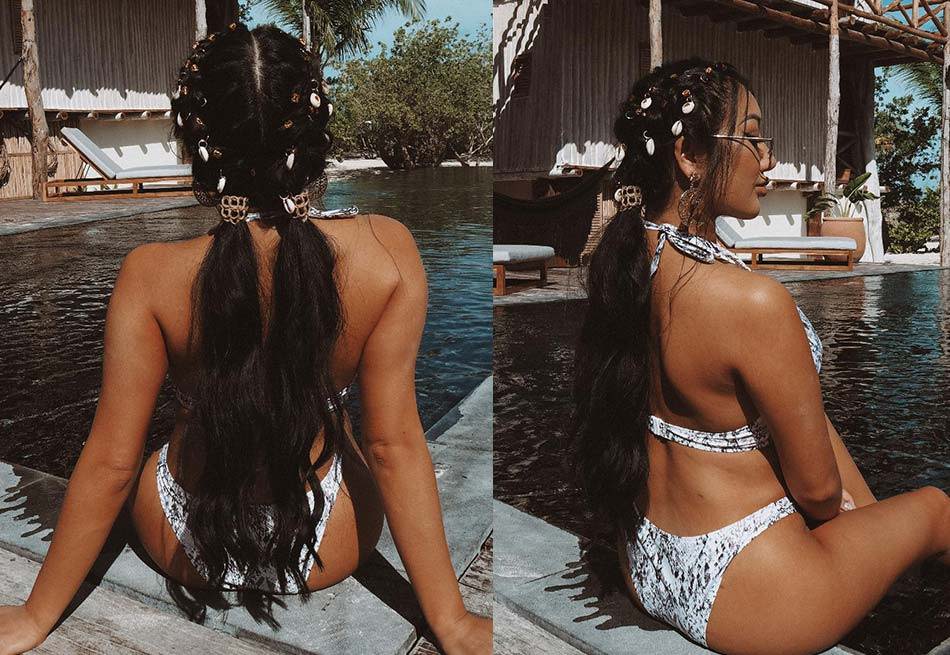 Add some sass to your summer braids.
It's no secret that the Dutch braid is a current favorite amongst celebs and bloggers this season, but if you're anything like us (always looking to add a little extra sass!), you'll want something that will funk up the trend.

Throwing it back to our trip to Mexico, Cloud Nine style ambassador Casey Coleman created the ultimate look on Thuy Le by working a pair of Dutch braids into two chic low ponies – are you thinking what we're thinking? Pool party perfection! Equally, we would totally rock this look at a festival to bring some sass factor to the crowds!

Coleman gives us a step by step on how to nail the look and become an instant SASS Queen! Oh, and just to confirm, this was a holiday favorite amongst the Holbox huns!
STEP BY STEP GUIDE:

1. Spritz Cloud Nine Magical Potion through all the hair. Dry the product in using The Cloud Nine Airshot.
2. Once the hair is dry, take a centre parting. Section either side using the Cloud Nine Croc Clips.  
3. Start Dutch braiding the section of hair to the left-hand side of the parting.  

4. Once you reach the nape, secure the braid. Repeat on the remaining hair to the right of the parting.  

5. With both sides complete, tease some of the hair out of either braid using your fingers or a Cloud Nine Tail Comb. This will give the braids a fuller look.  

6. Using The Curling Wand, take hair from the remaining ponytails at the end of each braid and wrap medium sized sections of the hair around the barrel. Hold for 7-10 seconds.

7. Repeat this until both ponytails and the front of the hairline are curled.

8. Take The Luxury Texture Comb and gently comb through the curls to loosen them.  

9. Finish the look by spraying The Cloud Nine Amplify Spray all over. Work the product into the hair using the Cloud Nine Airshot – this will create a sleek finish!

10. OPTIONAL: Add in some cute accessories to either braid for added SASS.
---
By

James Wray

,


29th May 2019